Comparatif : le bon complément alimentaire pour soulager mes articulations
Avis, tests, informez-vous avant de choisir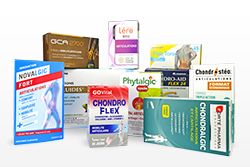 La prise en charge des douleurs articulaires par des compléments alimentaires n'est jamais une chose évidente. Les attentes de résultats sont immenses et les principes actifs qu'ils contiennent sont eux, souvent et à juste titre, sujets à controverses. Qu'il s'agisse de glucosamine, de chondroïtine, de curcuma ou autre oméga-3 et collagène, difficile de trouver LA molécule dont les effets sur l'arthrose de votre genou ferait l'unanimité.
Souslaboite.com a répertorié les études cliniques disponibles et établi un comparatif pour vous informer et mieux consommer.
Aujourd'hui, peut-on réellement parler d'efficacité des compléments alimentaires pour l'arthrose ? Nous avons tenté de répondre à cette question :
Traitement de l'arthrose, où en est-on vraiment ?
Notre sélection pour le confort articulaire
Nos critères de notations
La composition
Nous avons pris en compte un grand nombre d'études cliniques et autres Meta-analyses cherchant à montrer les effets de chaque molécule sur les causes et conséquences de l'arthrose (le plus souvent arthrose du genou). Cette maladie touchant une grande partie de la population. Nous avons pu ainsi juger au mieux de la probable efficacité des composants de chaque complément alimentaire avec la plus grande objectivité.
Le bon usage
Nous évaluons ici la bonne lecture du produit. Le consommateur peut-il facilement comparer un complément alimentaire avec un autre, les informations nécessaires sont-elles bien présentes ? L'aptitude à garantir une bonne observance du traitement est aussi jugée compte tenu de la durée de ce type de supplémentation.
Le prix
Cela reste souvent l'élément décisif pour l'acheteur. Nous avons donc comparé le coût journalier et le prix unitaire de chaque traitement à la moyenne de notre comparatif.
Nos sources
01 - Glucosamine sulfate use and delay of progression of knee osteoarthritis: a 3-year, randomized, placebo-controlled, double-blind study (Pavelká K1, Gatterová J, Olejarová M, Machacek S, Giacovelli G, Rovati LC);
02 - Meta-analysis: chondroitin for osteoarthritis of the knee or hip (Reichenbach S1, Sterchi R, Scherer M, Trelle S, Bürgi E, Bürgi U, Dieppe PA, Jüni P).
03 - Glucosamine, chondroitin sulfate, and the two in combination for painful knee osteoarthritis ( Clegg DO1, Reda DJ, Harris CL, Klein MA, O'Dell JR, Hooper MM, Bradley JD, Bingham CO 3rd, Weisman MH, Jackson CG, Lane NE, Cush JJ, Moreland LW, Schumacher HR Jr, Oddis CV, Wolfe F, Molitor JA, Yocum DE, Schnitzer TJ, Furst DE, Sawitzke AD, Shi H, Brandt KD, Moskowitz RW, Williams HJ).
04 - Clinical efficacy and safety of glucosamine, chondroitin sulphate, their combination, celecoxib or placebo taken to treat osteoarthritis of the knee: 2-year results from GAIT ( Sawitzke AD1, Shi H, Finco MF, Dunlop DD, Harris CL, Singer NG, Bradley JD, Silver D, Jackson CG, Lane NE, Oddis CV, Wolfe F, Lisse J, Furst DE, Bingham CO, Reda DJ, Moskowitz RW, Williams HJ, Clegg DO).
05 - Combined chondroitin sulfate and glucosamine for painful knee osteoarthritis: a multicentre, randomised, double-blind, non-inferiority trial versus celecoxib (Marc C Hochberg, Johanne Martel-Pelletier, Jordi Monfort, Ingrid Möller, Juan Ramón Castillo, Nigel Arden, Francis Berenbaum, Francisco J Blanco, Philip G Conaghan, Gema Doménech, Yves Henrotin, Thomas Pap, Pascal Richette, Allen Sawitzke, Patrick du Souich, Jean-Pierre Pelletier, on behalf of the MOVES Investigation Group
06 - Glucosamine and chondroitin for knee osteoarthritis: a double-blind randomised placebo-controlled clinical trial evaluating single and combination regimens (Fransen M1, Agaliotis M1, Nairn L, Votrubec M, Bridgett L, Su S, Jan S, March L, Edmonds J, Norton R, Woodward M, Day R).
07 - Efficacy and safety of Curcuma domestica extracts in patients with knee osteoarthritis. Kuptniratsaikul V, Thanakhumtorn S, Chinswangwatanakul P, Wattanamongkonsil L, Thamlikitkul V.
08 - Are curcuminoids effective C-reactive protein-lowering agents in clinical practice? Evidence from a meta-analysis. Sahebkar A.
09 - Comparison of systemic availability of curcumin with that of curcumin formulated with phosphatidylcholine. Marczylo TH, Verschoyle RD, Cooke DN, Morazzoni P, Steward WP, Gescher AJ.
10 - Comparative absorption of curcumin formulations - Ralf Jäger, Ryan P Lowery, Allison V Calvanese,Jordan M Joy, Martin Purpura, Jacob M Wilson.
11 - Influence of piperine on the pharmacokinetics of curcumin in animals and human volunteers.Shoba G, Joy D, Joseph T, Majeed M, Rajendran R, Srinivas PS.
12 - Meta-Analysis of the Related Nutritional Supplements Dimethyl Sulfoxide and Methylsulfonylmethane in the Treatment of Osteoarthritis of the Knee Sarah Brien, Phil Prescott, George Lewith
13 - Randomised, Double-Blind, Parallel, Placebo-Controlled Study of Oral Glucosamine, Methylsulfonylmethane and their Combination in Osteoarthritis
14 - Effect of collagen hydrolysate in articular pain: a 6-month randomized, double-blind, placebo controlled study. Bruyère O, Zegels B, Leonori L, Rabenda V, Janssen A, Bourges C, Reginster JY.
15 - A randomized controlled trial on the efficacy and safety of a food ingredient, collagen hydrolysate, for improving joint comfort. Benito-Ruiz P, Camacho-Zambrano MM, Carrillo-Arcentales JN, Mestanza-Peralta MA, Vallejo-Flores CA, Vargas-López SV, Villacís-Tamayo RA, Zurita-Gavilanes LA.
16 - 24-Week study on the use of collagen hydrolysate as a dietary supplement in athletes with activity-related joint pain. Clark KL, Sebastianelli W, Flechsenhar KR, Aukermann DF, Meza F, Millard RL, Deitch JR, Sherbondy PS, Albert A.
17 - Safety and efficacy of undenatured type II collagen in the treatment of osteoarthritis of the knee: a clinical trial. Crowley DC, Lau FC, Sharma P, Evans M, Guthrie N, Bagchi M, Bagchi D, Dey DK, Raychaudhuri SP.
18 - Undenatured type II collagen (UC-II®) for joint support: a randomized, double-blind, placebo-controlled study in healthy volunteers. James P Lugo, Zainulabedin M Saiyed, Francis C Lau, Jhanna Pamela L Molina, Michael N Pakdaman, Arya Nick Shamie and Jay K Udani
19 - Efficacy of vitamin E in knee osteoarthritis management of North Indian geriatric population. Ijen Bhattacharya, Rahul Saxena, Veena Gupta.
20 - The antioxidant vitamins A, C, E and selenium in the treatment of arthritis: a systematic review of randomized clinical trials. Canter PH, Wider B, Ernst E.
21 - Evaluation du cuivre dans le traitement symptomatique de la gonarthrose. Richard-Miceli, C, Mazières, B et Dougados.
22 - Omega-3 supplementation lowers inflammation in healthy middle-aged and older adults: a randomized controlled trial. Kiecolt-Glaser JK, Belury MA, Andridge R, Malarkey WB, Hwang BS, Glaser R.
23 - The effect of niacinamide on osteoarthritis: a pilot study. Jonas WB, Rapoza CP, Blair WF.
24 - Efficacy of a combination of FCHG49™ glucosamine hydrochloride, TRH122™ low molecular weight sodium chondroitin sulfate and manganese ascorbate* in the management of knee osteoarthritis. A Das Jr, T.A Hammad.
25 - Glucosamine, chondroitin, and manganese ascorbate for degenerative joint disease of the knee or low back : a randomized, double-blind, placebo-controlled pilot study. Leffler CT, Philippi AF, Leffler SG, Mosure JC, Kim PD.
26 - Efficacy and safety of willow bark extract in the treatment of osteoarthritis and rheumatoid arthritis: results of 2 randomized double-blind controlled trials.Biegert C, Wagner I, Lüdtke R, Kötter I, Lohmüller C, Günaydin I, Taxis K, Heide L.
27 - Efficacy and tolerability of a standardized willow bark extract in patients with osteoarthritis: randomized placebo-controlled, double blind clinical trial. Schmid B1, Lüdtke R, Selbmann HK, Kötter I, Tschirdewahn B, Schaffner W, Heide L.
28 - Association pour la recherche thérapeutique anti-cancéreuse. artac.info
29 - International Agency for research on cancer. iarc.fr
Interdit aux enfants de moins de 6 mois, de moins de 4 ans...
Interdit aux femmes enceintes